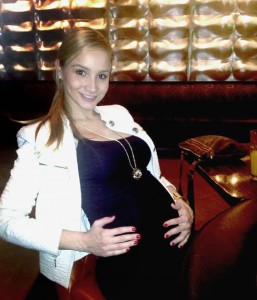 It all began with a picture posted on a social network, showing her with a unusualswelling. The immediate feedback – almost a thousand of comments and "likes" – revealed without a doubt the reason of her new plumpness. Yes, Krisztina Polgar is pregnant!
The Hungarian supermodel, our unforgotten testimonial for the year 2011, and lovelyplayerin ourlive tournaments, will be soon a mom and is about to enter the fifth month.
Our blog could not miss this opportunity – unfortunately only thanks the modern technologies–to send her our congratulations and somenaughty question about thishappy event.
The eternallyyoung girl, who drove crazy players (and not only) all over the world – including the world champion Daniel Negreanu–did not avoid our questions, satisfying our curiosity and revealing us even a little more than we hoped…
Thank you and congratulations again, Krisztina. We didn't think it was possible, but you are even more beautiful with a big belly!
Hi Krisztina, now that the news is "official", we we'd love to make you our congratulations. How many months are you pregnant?
Thank you very much! 🙂 I am in the 20th week, so we gonna turn the 5th months soon 🙂
During the People's Poker Tour Prague you were already pregnant… was it more difficult to play, having bear so many hour of tournament?
Yes I was already pregnant but you know before the 12th weeks no one talks about it. In the 12th week you have the big ultrasound and if everything is ok you can talk about the baby without any fear. Playing with the baby wasn't difficult at all. I was a bit tired, more tired than before, but as you can see the baby brought me big luck, because I finished on the 11th place in Prague. I hope the next PPTour the result will be similar 🙂
Do you already know the sex of your kid? And what about the name? Did you already decided it?
I know he is a BOY <3 🙂 In the first 3 months I was dreaming about the sex of the baby and it was always a girl in my dreams. I don't really know why, because it doesn't matter if boy or girl. So I told my boyfriend and my family that I was waiting a girl. They believed me, then everyone was surprised about the result of the ultrasound 🙂 This time the "woman intuition" (or "poker intuition") just didn't work really well 🙂 I'am happy about the boy. We are thinking about the name, but we didn't decide yet.
Let me ask you a naughty question: did it happen or did you decide it?
The baby was planned, but I had some health problem and I was afraid I could not have child. But finally the God gave us this angel 🙂
 Now you'll be forced to take a break from your job of model … but what about poker? Will you continue to enjoy our Tour?
Actually I don't need to take a break, not in modeling and poker. Fortunately the model agencies needs pregnant girls as well, so I am doing model jobs now. And I can play live poker till I am pregnant, because in Hungary people cannot smoke in the poker rooms and my belly is not so big yet 🙂 When I will have the baby I won't play live poker for 2-3 months, but I can play online while the baby is sleeping 🙂 So I don't have to change my life too much… but of course the baby is the most important thing. And I am gonna go to all PPTour events for sure, maybe the baby and his daddy will come with me 🙂
So you think your life won't change so much. You said you'll take the baby with you during poker performances, but will you allow him to learn this game?
Of course! My baby won't be closed into a bubble. I mean: he's gonna come with me everywhere. I think the kids needs to grow up among people to get a healthy mind. But I don't know if he is gonna play poker. I have time to think about it, because he will not play until he'll be 18 🙂
How do you spend your days now?
I try to care about my health but it is not easy. It is winter time and the weather is really cold here in Hungary. I take vitamins but I got a bit sick few days ago 🙁 I try to eat healthy food, but I don't really like fish and vegetables. I eat a lot of fruits. And play online poker almost every day.
And now a very naughty question. Of course you can not even answer if you want: who's the lucky daddy?
The daddy of my kid is one of the most amazing person in the world and I feel like I am the lucky one. We know each other for 3 years, but the relationship turned serious more than 1 year ago. He is a Hungarian businessman who works in London, and his name is Szabolcs. I know in Italy many people knows about my relationship with Daniel Negreanu. He is
a great guy, but it didn't work between us as a couple, so we became good friends. He also knows about my baby and about my love and is happy about my happiness.
Is there a wedding in your next future?
I think we're gonna marry soon, but maybe only after the baby' birth. I wanna be in good shape on my wedding… and I also wanna drink some alcohol :-)))
Thank you very much Kri, congratulations and… you're even more lovely with
your big belly.
Baci :*